My friends Shanna (

The Stamping Banana

) and Danille (

Danderella

)are on the DT for
Paper Sundae
s
, so I am always checking out the Paper Sundae Blog and particiating in the challenged. Well I have news for you to coincide with the thirteenth challenge, Paper Sundaes is having a celebration to feature their sensational sponsor calendar - packed full for 2010!

Paper Sundae is providing one of the new hÄnglar & stÄnglar stamps from their spring release. I am not familiar with these stamps as they do not sell to North America, and I am not an online shopper. The Girl with a letter as seen on their blog hop blinkie will be awarded to one lucky winner!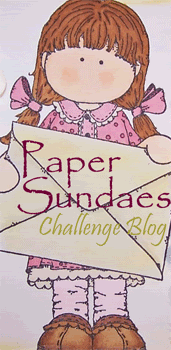 Here are the instructions for a chance to win the Prize. You get 7 chance to enter!!!

Lucky Seven:
Each individual will have a maximum of 7 chances to enter. Please read the following instructions carefully!

You can earn entries in ANY or ALL of the following seven ways.
1. Become a follower - or just let us know if you already are!
2. Add our blog hop blinkie linked back to us to your sidebar by April 20th and leave it up until the end of our blog hop on April 30th. (Snag the code from our sidebar and then go add a gadget > html/javascript, paste in the code and save!)
3. Post about our sponsor celebration, blog hop and prize in the main part of your blog.
4. Participate in Challenge #13 (April 11-17)
5. Participate in Challenge #14 (April 18-24)
6. Participate in Challenge #15 (until end of blog party, April 30th)
7. Participate in our blog hop from April 24th to April 30 following the instructions posted here on the 17th